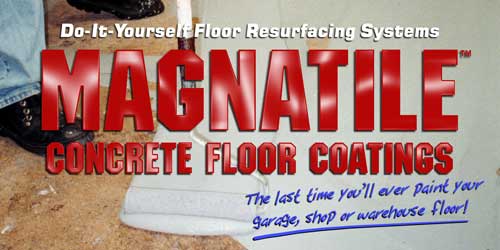 MAGNATILE™ 100% Solids Epoxy is a two component, low viscosity, chemically cured, heavy duty seamless epoxy floor resurfacing system with a convenient one to one volumetric mix ratio. The system features easy application and self leveling properties when applied using a low nap roller. MAGNATILE cures to a hard, glossy, tile-like surface with outstanding abrasion, impact, chemical and corrosion resistance. An extremely long system pot life (time that mixed components remain usable) makes MAGNATILE the perfect system for the Do-It-Yourselfer seeking a solution to their commercial, industrial and residential concrete flooring needs.

Unlike traditional floor paints, MAGNATILE forms a permanent mechanical bond to concrete and will stand up to hot tire traffic, gasoline, road salt, chemicals, even brake fluid and will never soften or lose adhesion to floors. Even a 10,000-lb. forklift or an 18 wheel tractor trailer weighing over 40,000-lbs. won't damage MAGNATILE. Bare, soiled concrete must be degreased and then acid etched prior to coating and all old firmly adhered paints should be cleaned thoroughly and lightly sanded. Loose, flaking or peeling paint must also be removed by scraping, grinding or blasting. One coat of MAGNATILE is all that's required and a two gallon kit will cover 200 to 250 square feet.

MAGNATILE will not be stained by oils and fluids or be damaged by the corrosive effects of snow and ice melting chemicals. It protects concrete from wear because it's actually harder and more durable than concrete itself. MAGNATILE is recommended for concrete floors requiring resistance to light and medium industrial usage, truck and automobile traffic, hand truck and fork lift use, and moderate chemical exposure. It is also useful in areas requiring fill properties and in confined areas where solvent fumes are a problem. MAGNATILE has no more odor than a latex paint, and because it's completely solvent free, MAGNATILE can be applied over sound, previously painted surfaces without lifting.

Options available for MAGNATILE floors include a Moisture Tolerant 2 Component Water Base Epoxy Sealer for extremely porous surfaces and a Clear Chemical Resistant Urethane Top Coat for floors requiring the highest degree of protection.

For showroom quality floors, a Decorative Colored Vinyl Chip package is available and for sloped areas or floors subject to frequent spills and water, a Non-Slip Aggregate is available to be mixed into the material at the time of use.