Finishing Systems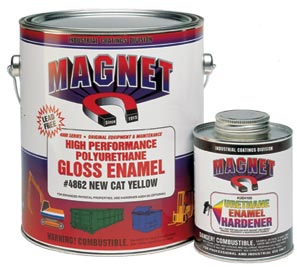 MAGNET 4800 Series are high-solids, premium quality urethane alkyd enamels with high hiding, good leveling and excellent gloss and color retention. 4800 Series Enamels air dry to a durable finish that protects against abrasion, impact and rusting while providing resistance to mild chemicals, salt air, corrosion, temperature extremes and other factors that cause ordinary enamels to fail. 4800 Series Enamels can be catalyzed (optional) to enhance their physical properties. When modified with 1 pint per gallon of UEH100 Urethane Enamel Hardener, the 4800 Series will dry and cure faster and harder while exhibiting higher gloss and gloss retention, increased abrasion, impact and chemical resistance. High performance over properly primed surfaces makes these enamels the perfect choice for all general purpose and light equipment finishing. Add hardener to unreduced enamel and thin accordingly for your application equipment. Catalyzed material should be used within four hours after mixing.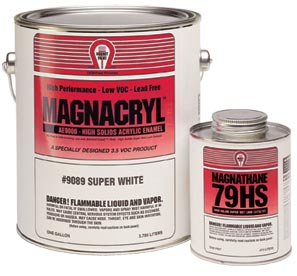 MAGNACRYL™ High Solids Acrylic Enamel 9000 Series, is a single-stage, fast drying, durable finishing system specifically developed for the automotive, truck, commercial fleet, OEM and industrial finishing markets. MAGNACRYL™ offers refinishers a chemical and solvent resistant paint film that resists chipping, cracking and fading. Comprised of 50% higher volume solids than conventional acrylic enamels, MAGNACRYL™ offers outstanding hiding properties and typically covers up to 30% more than other finishes. It contains less than 3.5 lbs. per gallon VOC and is *lead-free. When mixed with 1 pint per gallon of MAGNATHANE™ 79HS High Solids Super Wet Look Catalyst, its gloss, gloss retention, durability and service life are dramatically increased and recoat sensitivity is eliminated. For overall refinishing, 9000 Series provides versatility and durability at a value not seen in today's high priced paint markets. Not for use over acrylic lacquers or uncured/catalyzed finishes.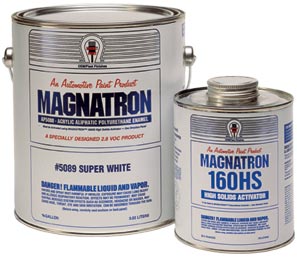 MAGNATRON™ High Solids Acrylic Polyurethane 5000 Series is a premium quality, single-stage OEM/Refinishing System for trucks, trailers, heavy equipment and other commercial fleet and off-road vehicles. This state-of-the-art, 2.8 VOC formulation provides excellent resistance to solvents, chemicals, gasoline, fading, chipping, abrasions and scratches. Highly advanced ultraviolet screeners and light stabilizers provide unsurpassed color and gloss retention. MAGNATRON™ has a convenient mix ratio of 4:1 by volume using MAGNATRON™ 160HS Activator. Apply over properly prepared and primed metal, fiberglass and aluminum or over existing OEM finishes and cured air-dried finishes. An accelerator is available (825P) for shorter tack-free and tape times or to help when two-toning. For additional levels of long term protection and even richer depth of gloss and color, MAGNATRON™ can be clear coated with MAGNACLEAR™ OC5900 Acrylic Urethane Clear Coat.